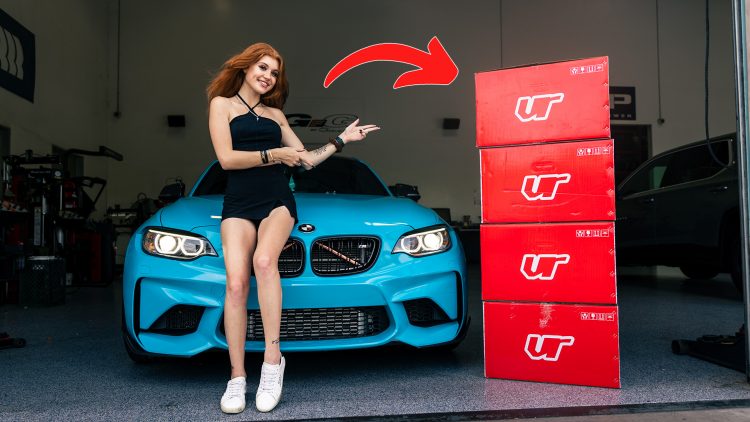 The BMW M2 is a track-inspired daily driver that has a knack for class but has the ability to cut loose at any given opportunity. Anyone who's had the chance to hoon the M2 can testify to it's well-balanced fun factor.
@sunni.drivez
does just that. Regularly tracking and pushing her M2 to the limits is her M.O. Sunni's 2017 2-Series is modified with a 4″ Catless Down Pipe, high-flow intake, charge pipe, aftermarket intercooler, and a Bootmod3 Tune. She's currently running a Stage 2 – 91 octane map drumming up 473HP! Did we mention she also originally wrapped her car herself?! Once Midnight Purple and now Miami Blue; not just any average wheelset is going to fit the bill for this build. We knew the D04 in Hyper Black would be sure to compliment this car with the current wrap and any other color she may decide to do in the future.
The VR Forged D04 wheelset on @sunni.drivez M2 is a split, 5-spoke design with an aggressive 19 x 9.5 up front with a staggard 19 x 10 out back. These wheels are elegant but also give a performance-inspired stance. Forged from a 1-piece monoblock using a 10,000lbs press, these wheels are remarkably strong and lightweight. The front wheel weighs in at 10.5lbs and has an offset of +27mm; while the rear wheel comes in at 11.1lbs with an offset of +44mm. Perfect for the BMW M2 on a stock or lowered ride height. The VR Forged D04s are available in many different finishes and fitments that pair nicely on a wide range of makes and models.
Check out some glamor shots of the 2017 BMW M2 equipped with Hyper Black D04 and be sure to follow Sunni on Instagram and TikTok for more content on her M2 and future cars.